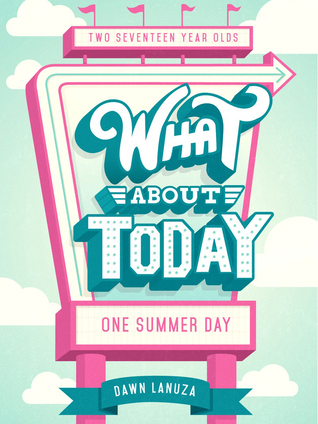 Blurb:
Aiden's stuck working for his family's amusement park, Funtastic World, for the whole summer. Nothing amuses him, until he met this terrified girl. Gemma's stuck in Funtastic World thinking she could handle the park's rides. She couldn't. Good thing she met someone to guide her. As the day comes to a close, Aiden and Gemma ask themselves if one day is ever enough to decide if they were better off as friends or strangers.
What About Today is a novella that can be read in one sitting, (I would have if my mood weren't going up and down like a yo-yo) it's a light read and is perfect during a warm afternoon. All the scenes between the protagonists happened during one day, and there were moments when I felt a bit bored with the characters' dialogue with each other, it felt too much, but overall I love this book.
Aiden's character managed to make me laugh and smile, while some other time he annoyed me so much, especially the part where he argued with Alec, I was nodding my head. If I could, I would love to grab Aiden's shirt and rubbed it to his face that he is acting like a spoiled brat. Although, I understand when he later explains but still he was doing it all wrong.
I can't complain anything about Gemma. She's not the most fun character, but I feel emotionally connected to her a lot of time, big part of it is because I'm a bookworm too, haha :D
If you're into YA contemporary or wanted to try reading one, I recommend you to give this novella a chance.
____________________
ABOUT THE AUTHOR
Dawn Lanuza
once wrote this in a bio for some site:
never shuts up on ink.
Which is kind of true. That said, she writes a lot: e-mails, tweets, doodles, lists, random one-liners, oh, and also, she writes contemporary romance and young adult novellas.
She works for the music industry by day and writes meet cutes and snappy comebacks by night.
Her first book
The Boyfriend Backtrack
, published by Anvil Publishing, was nominated for the Filipino Readers' Choice awards for Romance in English in 2015.
She currently lives with a very spoiled cream toy poodle.